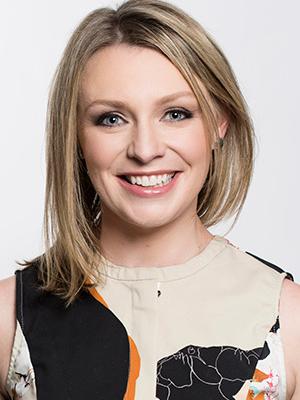 Kylie Russell
Realtor
LIV Sotheby's International Realty
LIV Sotheby's International Realty | Cherry Creek
100 Saint Paul St #200
Denver, CO
Realtor (14 years experience)
Specialties: Buyer's Agent, Listing Agent, Relocation
A seasoned real estate professional and true Colorado native, Kylie Russell's working style perfectly combines experience, knowledge, enthusiasm and genuine care for her clients.
Kylie began her real estate career immediately after graduating from the University of Colorado with a degree in Business Marketing and Real Estate in 2003. Since, she has cultivated an impressive portfolio by working amongst some of the most successful and well-respected real estate professionals in Denver. Kylie's unparalleled experience in all aspects of real estate provides her with a true knowledge of all metro Denver neighborhoods and price ranges.
Always striving to provide her clients with the most accurate, pertinent and useful information, Kylie prides herself on extensive continuing education to stay informed and keep her finger on the pulse of what is happening in today's housing market. Kylie obtained her GRI credential in 2014, a professional designation held only by a select group of real estate agents who successfully attain in-depth knowledge of technical subjects and real estate fundamentals. GRI is recognized nationwide as the standard for real estate professionalism and knowledge and is considered the nation's number one real estate designation. Kylie has also been awarded the Certified Negotiation Expert (CNE®) designation by the Real Estate Negotiation Institute (RENI). The CNE® is earned by real estate professionals after successfully completing formal negotiation training from the Real Estate Negotiation Institute. Agents who receive this certification are in the top 1% of all agents nationally. Kylie is an active member of the Denver Board of Realtors as well as the Woman's Council of Realtors.
Her top priorities are keeping clients informed throughout the entire sales process and providing excellent customer service. Putting the needs of her buyers and sellers first, Kylie has earned a reputation for unmatched service and commitment to every transaction, resulting in optimal outcomes. Kylie often refers to her relationship with clients as a team effort, in which all parties involved are striving for the same outcome - to achieve the best price in the shortest amount of time with the least amount of stress and surprises.
Kylie lives in Platte Park with her husband and possibly the cutest labradoodle in Denver. In March, they welcomed a beautiful baby boy to their family. She and her husband are active members of the DU Alumni Association, where her husband earned his MBA and she continues to be involved in the CU Real Estate Center/Leed's School of Business as well.
Highly likely to recommend
09/03/2022 - bknice318
Bought and sold a single family home in 2019 for approximately $325K in Denver, CO 80207.
ylie is the best realtor you will ever have the pleasure to work with. She is down to earth, extremely knowledgeable, always takes the time for you, goes above and behind, has your back, and more. I've used her three times to purchase homes, and I would never think of using anyone else. She isn't a salesperson, she truly cares about her clients and is your partner in finding your home and building your future.
Highly likely to recommend
08/15/2021 - Olivia Dunn
Bought a single family home in 2021 for approximately $850K in Littleton, CO 80120.
Kylie was wonderful to work with! Her experience and knowledge of the real estate market was very helpful to us as first time home buyers coming from out of state. Her close attention to detail when touring houses was also very helpful in our search for the right home.
Highly likely to recommend
02/22/2021 - user3629447
Sold a single family home in 2020 for approximately $625K in Denver, CO 80205.
Kylie is the best realtor! I have now purchased and sold a home with her. When I moved to town I was referred to them through my company that I work for and it was such a wonderful recommendation. She helped show me around the best parts of Denver and listened to what I wanted in a home for my lifestyle. The purchase I ended up making with her was a perfect fit for me and I felt like I couldn't have had a better person on my side when buying my first home. When the seller of the home I purchased took all the light bulbs she even went out and purchased new ones and put them in all the light fixtures before I moved in. It was something Kylie had never experienced, and definitely was not her responsibility, but she handled it with humor and class.

When selling my home in Denver they she went above and beyond. I travel all week for my job and had moved out of state already when I put my house on the market. She held several open houses to bring interest and foot traffic to my property. There was a full page ad that she had printed in a real estate magazine to showcase my property and location. She handled everything that typically the home owner would do, to name a few, met the inspectors, had the house cleaned several times, decorated and staged it and met with contractors when a few things need fixed and I wasn't in town. I was not in town for the closing and she shipped documents to me make sure that my property would close on time.

I would highly recommend Kylie for any buying or selling of a home in Denver area. She is very knowledgeable when it comes to real estate in the area. She helped me find a perfect home when moving to Denver and helped me get top dollar for my property when I left. After working with a few other realtors in other states I can definitely say she is top notch. I wish I could use her for every real estate purchase I have made and will ever make. Kylie brings grace, humor, and fun to what can be one of the more stressful situations in someone's personal life. Anyone looking to purchase or sell a home in Colorado should definitely not think twice about using her services. She is amazing!
Highly likely to recommend
01/20/2021 - kellicwilliams26
Bought and sold a single family home in 2020 for approximately $675K in Lakewood, CO 80228.
Kylie is an incredible real estate professional! She helped us sell our previous home and buy our forever home, and I could not thank her enough for all that she did. From pricing our current home perfectly (getting more than we thought) to negotiating so we won out on multiple bids of our dream home, the experience was more than we could have ever hoped for. She and her team were also available every step of the way for all of the questions that we had, as this was our first time selling a home and it had been a couple of years since we went through the buying process. Any buyer or seller would be lucky to work with Kylie - she is incredible.
Highly likely to recommend
01/13/2021 - msmartinez321
Bought and sold a single family home in 2020 for approximately $525K in Aurora, CO 80018.
Kylie and team are amazing! Always available, quick to respond and great to work with! She helped sell my house and find out new home, we couldn't have done it without her!
Highly likely to recommend
12/21/2020 - ashleyelnicki
Bought a single family home in 2020 for approximately $650K in Denver, CO 80211.
I highly recommend Kylie! She guided us through the crazy Denver market with care, candor, and professionalism. She exceeded our expectations every step of the way, and we are so happy with the house we purchased.
Highly likely to recommend
10/09/2020 - lovepeaceandveggies
Bought and sold a single family home in 2019 in Denver, CO 80219.
I've known Kylie Russel for a few years. She helped me buy and sell a property. Kylie has always been, patient, kind, responsive, professional and made herself available, She is very knowledgeable about the Denver market, She guided me and gave me support while I was learning the market, even when she wasn't making money. The reason she did this is because she cares about people and loves working in real estate. She is a good, kind person and an amazing realtor. I highly recommend her if you are buying or selling. She will be by your side throughout everything that's needed. You can't go wrong with Kylie.
Highly likely to recommend
05/12/2020 - 153659
Bought and sold a single family home in 2020 for approximately $500K in Castle Rock, CO 80108.
Kylie is an amazing realtor!  She guided me through, selling my house and purchasing a new house, in this hectic housing market.  Kylie and her team expertly staged my house to sell, sold it and closed on a new house within 60 days. Kylie is highly professional, quick to correspond and passionate about real estate.  Even in this time of unknown, Kylie masterfully navigated the Denver housing market and found a beautiful house in Castle Rock for my family.  I can't recommend Kylie and her team enough!
Highly likely to recommend
05/11/2020 - Dana Chien
Bought a single family home in 2019 in Erie, CO 80516.
My husband and I were highly encouraged by his coworker to work with Kylie. We moved from CA to CO, which was a huge, life changing move for us. We really didn't have anything figured out besides the fact that we wanted to relocate to CO. It was very stressful, but Kylie made the process so much easier for us. Kylie really knows her stuff! She was born and raised in CO so is very knowledagable of the areas, regulations and laws, and much more. While working through this process, we also gave birth to our second child, which meant we were not able to travel during the purchasing process. Kylie was able to attend all our required meetings with the builders on our behalf and advised us through the entire process. We trusted her completely. Come few months later, we are so happy with the decisions we made: moving to CO, purchasing our house, and deciding to work with Kylie and her team. We cannot be more thankful for Kylie and all the help she provided. She is AMAZING. I highly recommend Kylie.
Highly likely to recommend
05/07/2020 - user66378441
Bought and sold a single family home in 2020 for approximately $500K in Aurora, CO 80015.
Kylie has been my agent for over 7 years and has helped me sell 2 homes and purchase 2 homes. She is prompt, thorough, and considerate of her clients. I have never had a concern and have always been so impressed with her thoughtfulness and work process. I would highly recommend her and the team she works with for selling or purchasing and will continue to use her for all my future needs.